Double flap Megaphoenix
Natural ventilation in all weathers
The MEGAPHOENIX is a multi-purpose ventilator. Two hoods on the top can be opened in good weather. But even when closed, the hoods let daylight into the building. When it starts to rain, the outer hoods close under the control of a rain sensor and the longitudinal inner flaps open to allow ventilation without the rain getting in. Since the MEGAPHOENIX is also approved as natural smoke and heat exhaust ventilation, it offers real multiple benefits. The MEGAPHOENIX double flap combines all-weather ventilation, daylight illumination and fire safety. Depending on the design, the MEGAPHOENIX complies with the requirements of DIN EN 12101-2 and VdS 2159. The EC declaration of conformity is handed over together with the product.
Areas of application
A lot of heat is sometimes generated during production in the heavy and automotive industries as well as in other branches of industry. We use physical laws to transport the energy naturally to the outside. By means of temperature and pressure differences, thermal lift (chimney effect) and a 90° ventilation position for our double flap systems for daily ventilation, we achieve this with maximum success.
Like the double flap PHOENIX, the MEGAPHOENIX is suitable for virtually all industrial areas of use. With its bad-weather ventilation option, it is particularly useful in industrial halls where there is constantly increased humidity or heat that needs to be dissipated regardless of the weather.
The MEGAPHOENIX ideally solves the various industry-specific problems and thus has a wide range of applications:
Plastics industry
Automotive industry
Mechanical Engineering
Food industry
Paper industry
Textile industry
Chemical industry
Electrical industry
Power stations
Waste incineration plants
Fair weather ventilation
The thermal system that is present in every building are the starting point for the way the MEGAPHOENIX works. The thermal lift causes constant air circulation in the building. Used air and smoke are constantly replaced by fresh air. In fine weather, the external hoods can be opened and the stale hall air flows outside.
The thermal system is the motor for the ventilation, so there are no additional energy costs for the electrical drives of ventilators and extractors. Moreover, natural ventilation does not generate any additional noise.

Bad weather ventilation Even in rainy weather, there is no need to do without ventilation. The MEGAPHOENIX double flap regulates the required ventilation volume depending on the weather conditions via its control system. With the help of the rain sensor control, the outer hoods are automatically closed and inner flaps are opened at the same time. This is controlled with compressed air via pneumatic cylinders. Weather-protected ventilation can be provided through the rainproof inner flaps.

Daylight illumination
Daylight has a positive psychological effect on working people compared to artificial light and also saves energy. Often only a few transparent units are sufficient to achieve the required brightness in a hall. Light intake through roof openings is five times more effective than laterally through a window.
Whether in an open state through direct daylight intake or in a closed state through the transparent outer hoods, the MEGAPHOENIX offers a better working climate in any case.

Fire protection
The double flap MEGAPHOENIX has the additional function of a natural smoke extraction system in case of fire. In today's industrial fires, it is precisely the heavy smoke development that makes firefighting so difficult. This means danger to people's lives as well as considerable damage to property.
In an emergency, the MEGAPHOENIX automatically opens the outer hoods at a predefined temperature. Smoke, heat and unburned gases can escape into the open air. The resulting smoke-free zone ensures that people can leave the hall without danger and enables the arriving fire brigade to extinguish the fire effectively and quickly.
Advantages of the product
Double flap MEGAPHOENIX
Ideal ventilation in all weathers in operations with high heat volumes
Flexible sizes for any roof opening up to 4.75m2
Natural, energy saving daylight illumination
Natural smoke exhaust
Ideal for renovation projects
Versatile installation options
Sound-insulated ventilation possible using a duct silencer
For new construction and retrofitting
Easily combinable with skylights
Natural ventilation even in the rain
Suitable for high snow and wind suction loads
Good aerodynamic efficiency
Hail and fall-through safe depending on the design
Delivery also with dark flap
Drill-hole-free base connection via tension locks
Manufacture of all brackets from high-strength cast aluminium parts
Recyclable product without harmful materials
Efficient rainwater drainage via central gutters
Individual colouring through powder coating in RAL colours

Technical details of the product
Double flap MEGAPHOENIX
A PHOENIX serves as the base of its construction, which is then equipped with an adapted frame structure, which has longitudinal opening flaps. Rainproof ventilation is provided by pneumatically or electrically operated interior flaps. The hood flaps are controlled either by means of end-position-locked pneumatic cylinders with remote unlocking or electrically.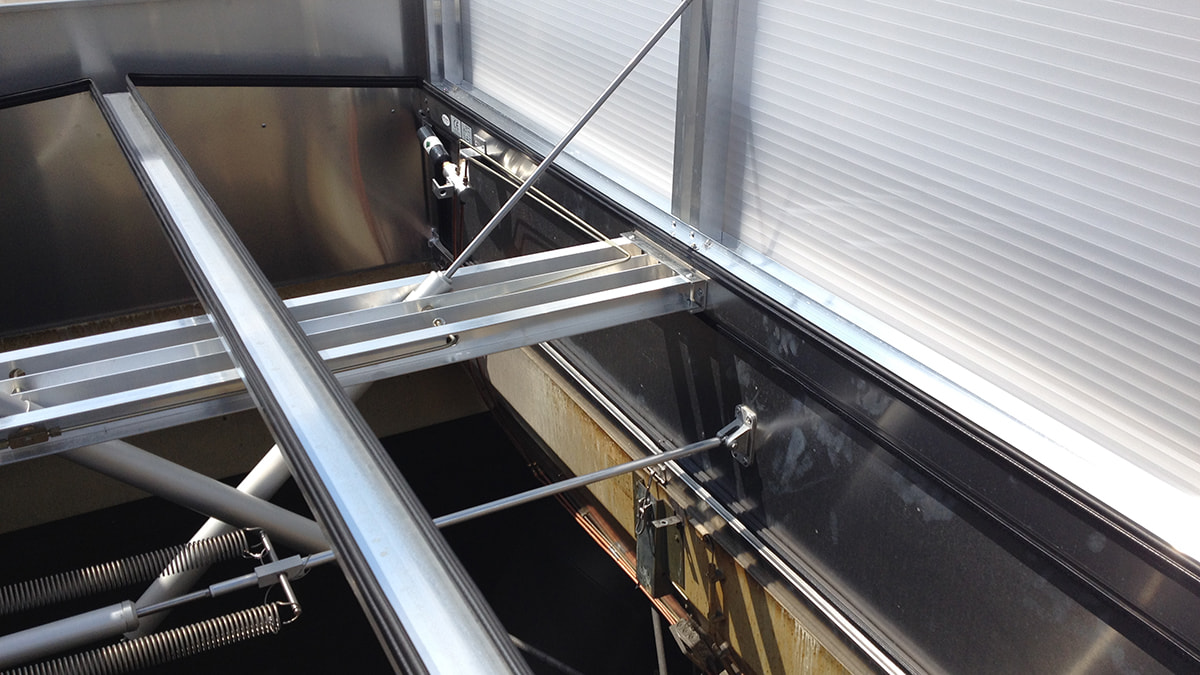 Pneumatically operated opening mechanism in case of fire
Automatically via a thermal valve (TVV) and connected CO2 cartridge
Via a fire emergency switch box with CO2 cartridge
Triggered via fire alarm panel by smoke detector or SHEV button (optional)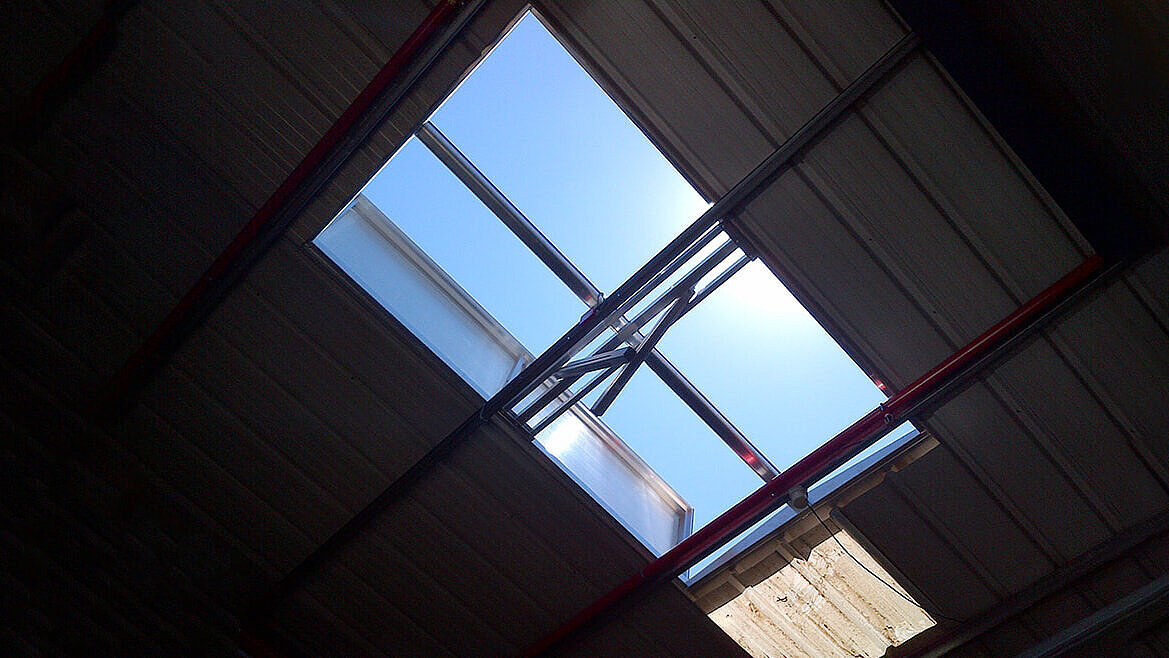 Electrically operated opening mechanism in case of fire
Via a SHEV control panel with buffer accumulators
Via smoke detector or SHEV button
With interconnected fire alarm panel (optional)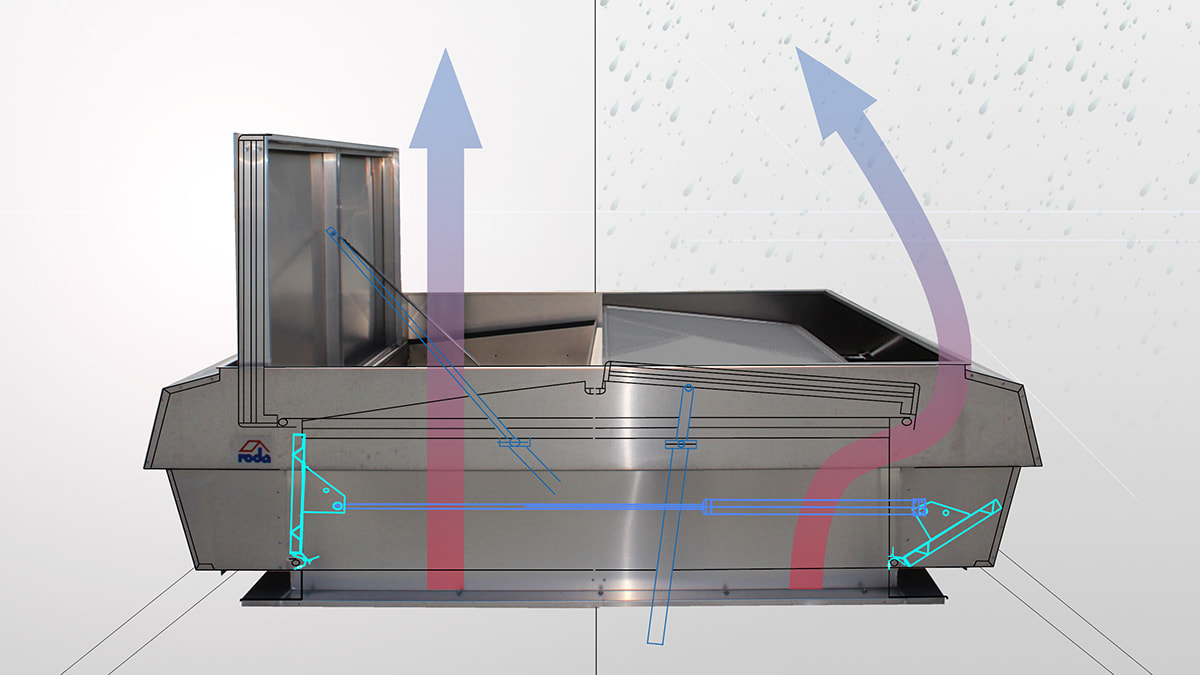 Opening mechanism for daily use
Via on-site compressed air supply via ventilation control box (for pneumatics) or SHEV control panel (for 24V actuators):
Ventilation control box
device
Timer for night cooling (optional)
Wind and rain sensor for bad weather protection (optional)
As our units are manufactured to customer order, the MEGAPHOENIX can be produced in all length and width dimensions from 1000 x 1000 mm to 1900 x 3000 mm.
Furthermore, depending on the location and requirements, the most suitable variations can be selected. Especially in relation to different:
Our hood frames are made of aluminium with the alloy AlMgSi05. The inclination of the hoods to the horizontal is 6°. They are attached to three hinges with the help of carriage bolts. All roda hood variants are permissible up to the maximum size.
Accessories
Double flap MEGAPHOENIX
The MEGAPHOENIX double flap from roda can be equipped with accessories on customer request, which bring further efficient advantages for the operator.
Duct silencer
Roda offers tailor-made solutions, even for noisy plants. With the duct silencer, it is possible to meet structural requirements even under the most extreme conditions and thereby achieve even higher sound insulation values. The duct silencer is constructed from galvanised sheet steel frames consisting of several modules. These are installed under/behind the natural ventilation and aeration units.
Optimum sound insulation
Ideal for noisy systems
Insect protection grating
In the multi-purpose ventilators, the gratings are either integrated as drawers or installed in the side boxes, where they do not impair the aerodynamically effective opening area required in the event of fire. In both cases, they can be cleaned from the roof during operation. When retrofitting in existing buildings, the systems can be installed without interfering with the roof cladding.
Ideal for industries with stringent hygiene regulations
Easy cleaning during operation
Optionally as drawer
Fall-through protection grid
Falls through an opening in the hall roof are not uncommon and often end fatally. According to the BG BAU, around half of all fatal accidents at work are fall-related. The fall-through protection of NSHEVs and skylights must be guaranteed not only during installation but also afterwards if maintenance work is to be carried out on open devices.
Ensuring the required fall-through safety
Maximum size: 1300 x 2500 mm
Mesh width: 100 x 100 mm
References
Double flap MEGAPHOENIX
Downloads
Double flap MEGAPHOENIX