Double flap Venturi Smoke VS2
Natural ventilation and SHEV combined
The VENTURISMOKE VS2 double flap combines daily ventilation with natural smoke and heat exhaust ventilation. Both in case of fire and for daily ventilation, the double flap opens with an opening angle of 90°. The primary USP of the VENTURISMOKE VS2 double flap is the geometric opening area of up to ten square metres, enabling the system to realise an aerodynamically effective opening surface of 6.7 square metres. Despite its size, the double flap works with one cylinder or linear drive per hood.
The roda light, ventilation and fire ventilation system VENTURISMOKE V2 is used in industrial, commercial and municipal buildings. As a natural smoke and heat exhaust ventilation unit with ventilation function and PC flap infill, the VENTURISMOKE VS2 provides:
Natural daylight
Natural ventilation
Automatic fire ventilation
Energy savings (thermal insulation)
The ventilation and fire ventilation system uses the thermal load within a building depending on the pressure or temperature difference for natural ventilation or fire ventilation and thus to relieve heat and smoke. With weather-dependent daily ventilation, the unit can be closed automatically in the event of rain by means of rain sensor control, thus preventing the ingress of moisture. In case of fire, the hoods are opened after the fire detection element has been triggered.
The double flap VENTURISMOKE VS2 is an EN approved natural smoke and heat exhaust ventilation unit and, depending on the design, meets the requirements of DIN EN 12101-2.
Flat roof
(up to max. 15° pitched roof surfaces)
Advantages of the product
Why VENTURISMOKE VS2?
Ideal for flat roof area with flexible sizes
Suitability for daily ventilation
Full ventilation with ventilation position 90°
Natural, energy-saving daylight illumination
Glare-free illumination when using PC Softlite or Lumira
Stable and functional design and high quality of materials
Functionality in endurance test with 10,000 opening operations
Aerodynamically effective opening surface up to 6.7 m²
implementation on conical base up to a geometric opening area of 10 m2
U-values up to 0.85 W/m2K with infill up to 65 mm thick
Suitable for high snow and wind suction loads
Delivery also with dark flap
Efficient rainwater drainage via a central gutter
Maintenance-free hinges with stainless steel bolts
Drives connected maintenance-free via Teflon-coated bronze bushes
Supplied completely pre-assembled or in modules
Completely silicone-free unit with EPDM seals
Technical details of the product
Double flap Venturismoke VS2
The hoods open as a ventilation function in 90° position and close, depending on the version, either via linear drives or pneumatically via cylinders with end position locking in both positions.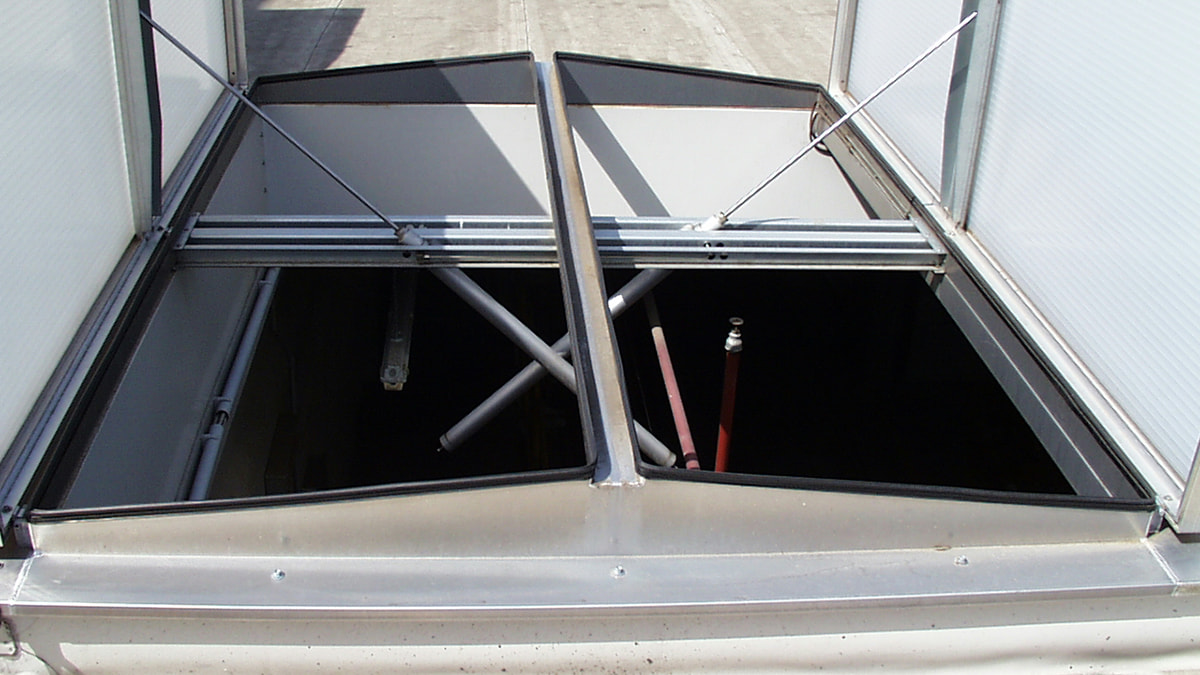 Pneumatic drive
Automatic opening via a thermal triggering device (TTD) and connected CO2 cartridge
Opening via a fire emergency switch box with CO2 cartridge
Opening via fire alarm panel, triggered by smoke detector or SHEV button (optional)
Activation for daily ventilation by ventilation control box via push-button
Activation for daily ventilation by timer for night cooling (optional)
Activation for daily ventilation by wind and rain sensor for bad weather protection (optional)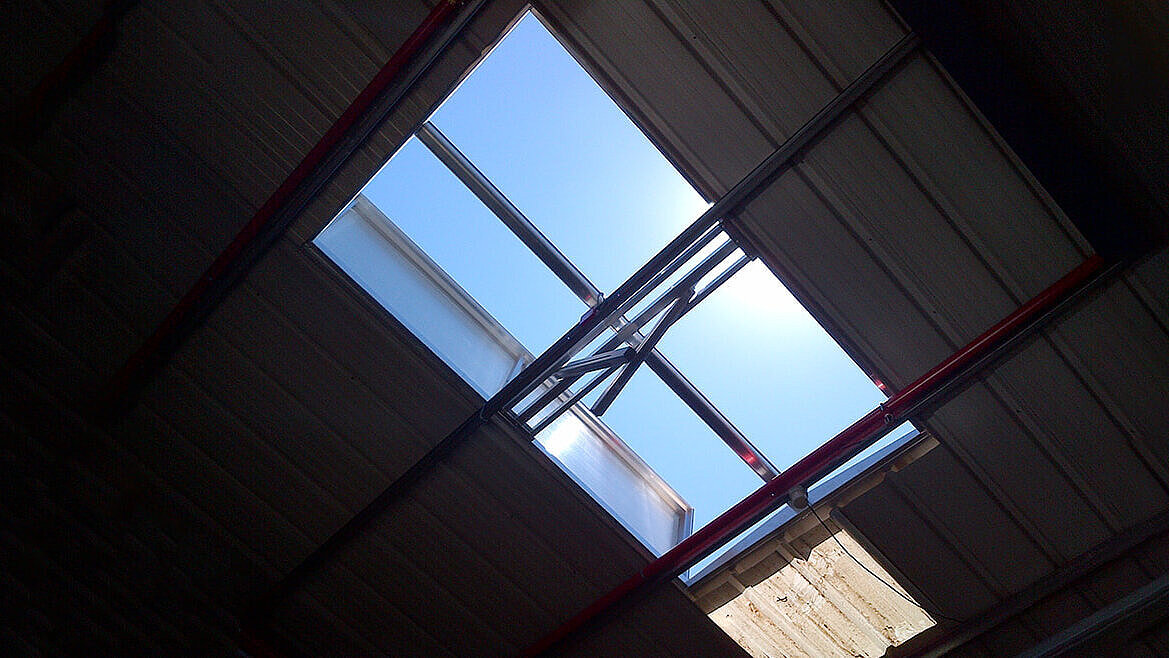 Electric drive
Fire opening via a SHEV control panel with smoke detector, SHEV button or other signal transmitters
Opening via upstream fire alarm panel (optional)
Activation for daily ventilation optionally via SHEV control panel and ventilation switch
Optionally with timer for night cooling
Optionally with wind and rain sensor for bad weather protection
As our products are manufactured and produced to customer order, the units can be manufactured in all length and width dimensions up to a size of 2500 x 3500 mm.
When using a conical base, a roof opening area of 2700 x 3700 mm (= 10 m²) can be implemented.
Base
The base of the VENTURISMOKE VS2 double flap is part of the system and as such is also tested. The crosshead with the drives is screwed directly onto the base. The single-shell base is made of AIMg Si05 aluminium and consists of a narrow frame with a rain gutter. EPDM seals reduce the outflow of warm air to a minimum. The bearing points on the drives consist of Teflon-coated bronze bushes with stainless steel bolts and are maintenance-free.
Base designs
The double flap VENTURISMOKE VS2 is tested and approved with straight and conical base with a height of 350 and 450 mm. Other manufacturers' bases are permitted, provided they comply with the aerodynamics with regard to:
Shape (in compliance with the geometric specifications)
Size
There are different variants for the glazing of the hoods of the VENTURISMOKE VS2. The hood frames are made of aluminium with the alloy AlMg Si05. They are attached to three hinges with the help of carriage bolts. All hood variants of the double flap VENTURISMOKE VS2 are permissible up to the maximum size.
Accessories
Double flap Venturi Smoke VS2
The double flap VENTURISMOKE VS2 from roda can be equipped with accessories on customer request, which bring further efficient advantages for the operator.
Fall-through protection grating
Falls through an opening in the hall roof are not uncommon and often end fatally. According to the BG BAU, around half of all fatal accidents at work are fall-related. The fall-through protection of NSHEVs and skylights must be guaranteed not only during installation but also afterwards if maintenance work is to be carried out on open devices.
Ensuring the required fall-through safety
Maximum size: 1300 x 2500 mm
Mesh width: 100 x 100 mm
Downloads
Double flap Venturi Smoke VS2