SMOKEJET
for natural ventilation and smoke and heat extraction.
The SMOKEJET is a louvred ventilator for natural ventilation and smoke and heat extraction. It is a maintenance-free, compact and lightweight unit available with a variety of control options and finishes suiting all industrial and most commercial applications. The ventilator side panels are reinforced by internal longitudinal sections. The unit is made from corrosion-resistant aluminium alloy, AlMg3. The louvres are controlled by a pneumatic cylinder fitted with special permanent lubrication or by an electric motor. In the event of fire the thermal release system triggers automatically and independently of all other control mechanisms. The louvre blades can be made of glass, polycarbonate or aluminium. Due to the variable unit dimensions and the adaptor flange range, the SMOKEJET can be easily installed in all customary roof and wall constructions, also as a natural ventilation and smoke extraction system. Additionally, the SMOKEJET can be fitted with insect screens.
Field of application
Flat roofs
Skylight systems
Northlight roofs
The SMOKEJET complies with DIN EN 12101-2 and VdS 2159 (depending on the specification). The EC declaration of conformity is delivered with the product.
Ideal for use on Northlight roofs and roofs with an inclination of 30° to 90°, as well as in walls
Individual customization for all roof openings up to 5.71 m2
Suitable for everyday ventilation (full ventilation at a louvre position of 90°)
Only one drive per unit necessary
The pneumatic or electric drive is completely hidden inside the frame
Only one control cable necessary
Good aerodynamic efficiency
Channels in the louvre blades conduct rainwater into a lateral drainage channel and prevent it from entering the building
Individually adaptable to all types of buildings
Energy-saving natural lighting, which is glare-free when using softlite polycarbonate or LumiraTM-filled panels (light incidence from above is five times more effective than through side windows)
All consoles are produced from high-strength castings
Hail-and fall-through-proof depending on the specification
Powder coating allows for individual choice of colours
Plinth mounting using tension locks – no drill holes needed
Fire-resistance rating A1 (depending on the specification)
Low maintenance
The products contain no harmful materials and can be recycled
Downloads and Links
For more Information
Versions
More Information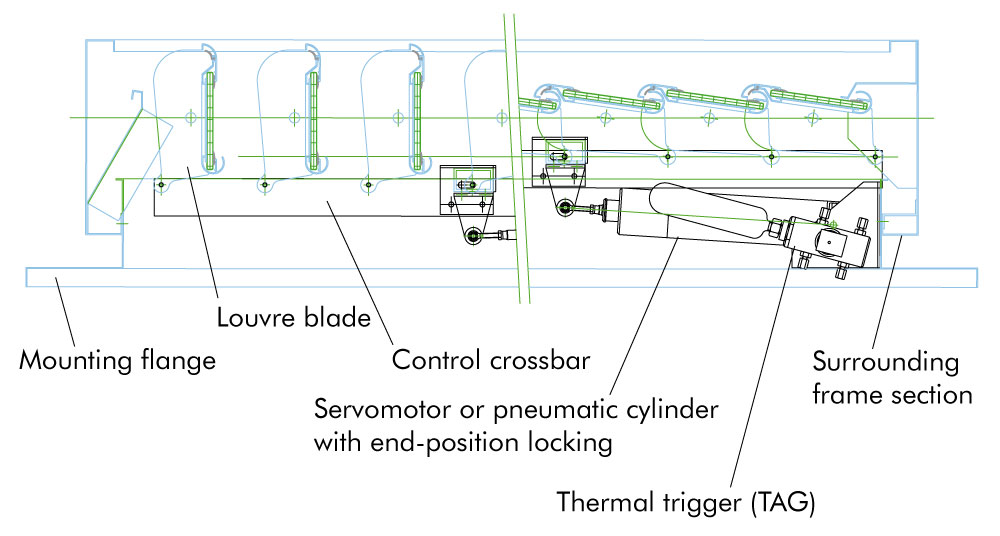 The units can be produced in all widths and defined lengths up 1,926 x 2,966 mm. The length results from the width of the individual louvre blades: 133 mm (Length = number of louvre blades x 133 mm + 40 mm for the frame).
By the use of sealing brushes or EPDM gaskets the leakage of warm air is reduced to a minimum. Louvre pivots are made of aluminium resting in UV resistant nylon sleeves.
Subject to locality and requirements the most suitable version can be chosen with regard to different:
Flanges can be broadened beyond their maximum size, but have to be requested. However, shortening the flange more than its indicated minimum width is not possible at all. Lengthening the flanges by 1000 mm (500 mm per side) is possible, but again only on request.
References
get an idea of it