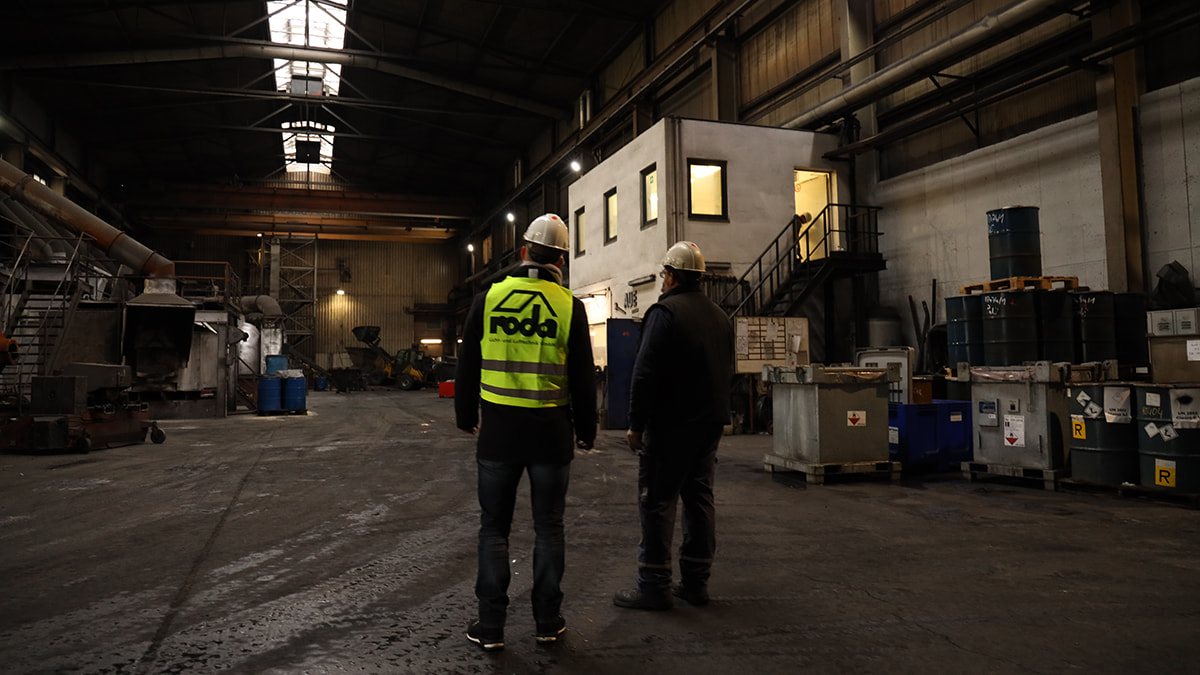 roda Licht- und Lufttechnik GmbH is a VdS-accredited manufacturer of natural smoke and heat extraction systems (NSHEV). As such we have an extraordinary obligation as far as the perfect operation of our systems is concerned. For with fire safety equipment there can't be any compromises in respect of functionality even after many years of use. We therefore put our faith in top quality materials, perfect manufacture and the innovative expertise of our experienced employees, who consistently reflect the latest technological standards in our new developments and enhancements. This innovative expertise is not least the reason why in situations with difficult specifications we are able to adapt and build systems to bespoke client requirements. We carry this approach through from development to implementation. We thus fulfil not only the EU's EN12101-2 standard, applicable since 2006, but also subject ourselves to a voluntary third-party inspection by the North Rhine-Westphalia Materials Inspection Office.
Our product portfolio, which is sold around the globe, is completed by further systems for industrial venting and ventilation, daylight lighting equipment and translucent façade systems.
In addition to our products' quality we seek to ensure that our customer service also satisfies your requirements. Our business partners in the various countries are available to act as expert partners in assisting you both in the planning and implementation of your system.
Our international business strategy is to work in each country in which we are represented with a permanent partner. You will find the relevant partner for your country under contacts.
The roda Licht- und Lufttechnik GmbH uses only materials and methods of high quality. Our natural smoke and heat extraction systems, for instance, can therefore be used for daily ventilation. Our devices open to an angle of 90°, while many systems for ventilation merely open up to 30° and thus make only a small part of the actual opening space available. The high quality of the materials and production methods is also proved by long-term tests, in which the devices are opened and closed 10,000 times. Natural ventilation does safe a lot of money as the following representative calculation illustrates. This philosophy of working with top materials in the best possible way is applied to our entire product range.
Every sector of industry has its specific problems, ranging from the regulations in the food industry and the criteria laid down in a foundry, all the way to sound insulation in cinemas. On top of this, come the specific requirements due to geographical location and local provisions. These include, for example, the low temperatures above the 45th parallel, increased country-specific demands and the problem of sand clouds in areas near to deserts.
Various geographic and sector-dependent requirements exist in relation to the following:
Extreme temperatures
Increased demands for airtight seals
Added resistance to wind and snow
Other local regulations
Thanks to our many years of experience and, above all, because we are able to build every device on a bespoke basis, we are in a position to offer a solution tailored to the problem concerned. And therein lies the rub.
Lufthansa Technik AG
still convinced after 25 years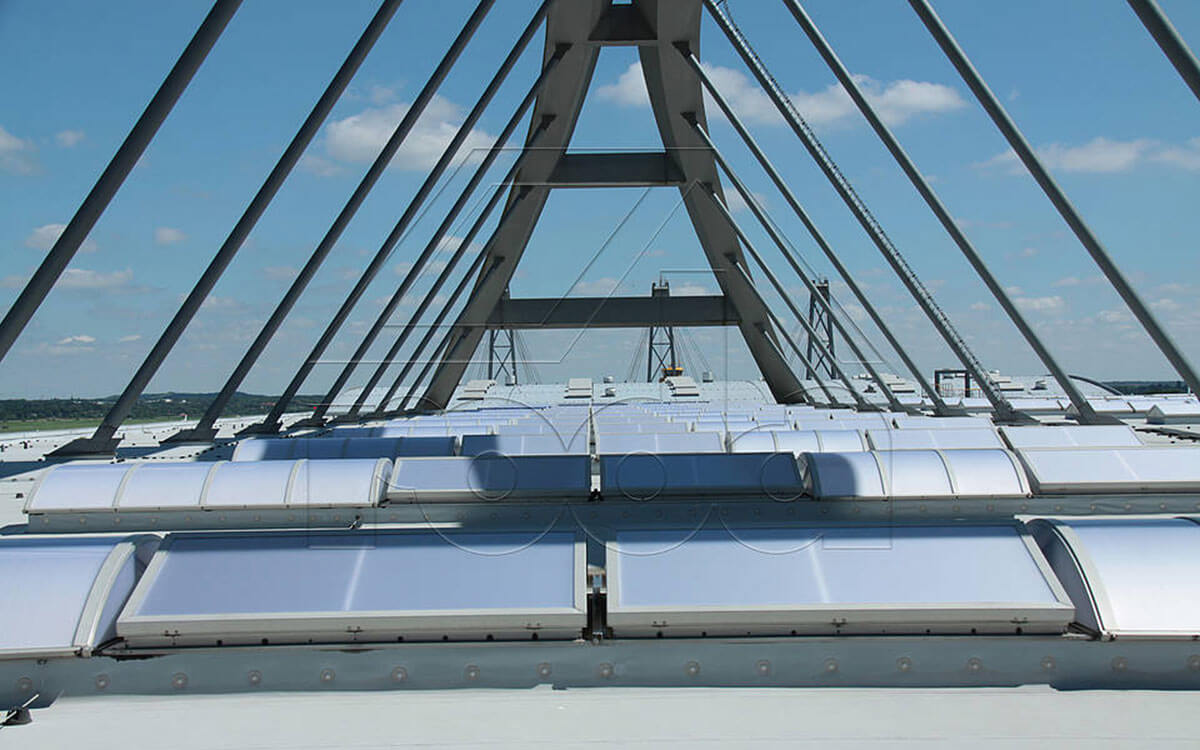 Aircraft, the most important asset of all flight companies, are according to manufacturers constructed in such a way that they can undergo 30,000 to 110,000 flights, which is equivalent to a service life of more than 20 years. Such a life span can only be achieved by a certain level of quality in conjunction with a regular servicing of the aircraft, as it is carried out by Lufthansa Technik AG. One of the company´s 50 business locations worldwide is situated in Hamburg and offers the so-called MRO services (maintenance, repair and overhaul) for aircraft. The fact that Lufthansa Technik AG has found a business partner in roda Licht- und Lufttechnik GmbH, who´s quality standards are equally high as the ones they know from aircraft technology, is proven by the overhaul hangar no 461.
On top of the 45 m high and 13,000 m² large building, the continuous skylight and ventilation system with SHE function, roda had once delivered, were all still fully functional – even after 25 years of use. Only the infills made from polycarbonate multiwall panels had been damaged by several hailstorms over the years to such an extent that refurbishment became necessary. After having established the current stage of the devices, the conclusion was drawn that the operational reliability was still given and that just the polycarbonate multiwall panels needed to be substituted. The special design of roda devices makes such a replacement possible.
Annelene Hinz, Dipl. Ing.
Senior Project Manager Building Services, HAM TV/F-32 Lufthansa Technik AG
"After 25 years of utilization the products of roda are working perfectly. Only the infills needed replacing which is why we can attest roda an excellent quality of their products."